A guide for fitting a tracker.

Printed From: Nissan Qashqai Owners Club UK
Category: J11 Qashqai 2014 -
Forum Name: J11 Hints, Tips and How To...
Forum Description: Found something useful or need a tip...
URL: http://forum.qashqaiclub.co.uk/forum_posts.asp?TID=18872
Printed Date: 15†Dec†2018 at 1:33pm


Topic: A guide for fitting a tracker.
---
Posted By: Tiffany
Subject: A guide for fitting a tracker.
Date Posted: 11†Jan†2018 at 9:46am
---
By grahamfromoldham

The following guide is done using my tracker system I used in my Astra Mk6 and I have removed it and now successfully and easily installed it into my new 2016 Qashqai behind the glovebox area so nice and discreet and tidy with nothing visible both for you and any suspecting thief. Takes around an hour to install.
If anyone is interested, I am more than happy to install it for you providing you are willing to travel to Winsford, Cheshire.

The Tracker I use is a 'XCSOURCE' model number TK103A and retails for around £20 with free delivery on Amazon at time of writing this. It uses a standard SIM card and for me personally I prefer the GIFF GAFF PAYG SIM as each text is around 5p or something.
Basically after installation you insert your SIM (with some credit on it) and telephone the Tracker to locate the car's position. It rings silently inside the car so the unsuspecting thief (or wife) would have no idea you are tracking your vehicle.

It rings three times then goes to voicemail at which point the Tracker will text your phone (you need a Smartphone to be able to use this tracker system as it uses Google maps to locate where it is, accurate to within 10 meters) within seconds with its Latitude/Longitude position anywhere on Earth. It also texts you a link for Google maps and all you do is click the link and hey presto, there is the location of your car.
Any questions, fire away I'll do my best guys. Good luck, this is a nice easy mod.
Graham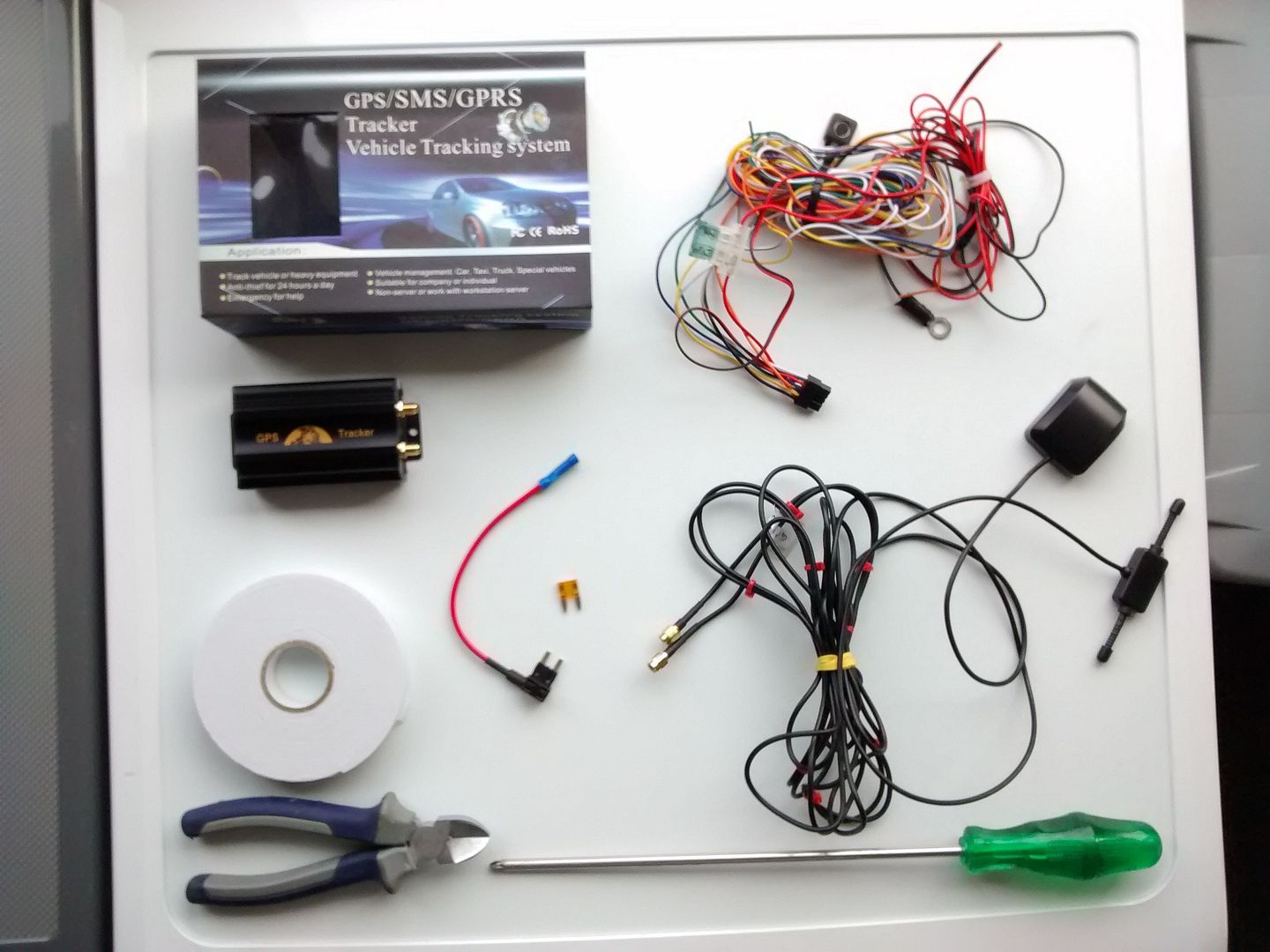 GPS Tracker with wiring loom and two aerials (supplied with tracker)
Philips driver
Wire cutters
Double sided sticky tape (thick type) or double sided sticky pads
Piggyback connector with 5A fuse ( Bought from Ebay)
Ring connector
Bullet connector
Pliers for crimping a bullet connector (not shown)




Start by opening the glovebox and locate the small arm at the right hand side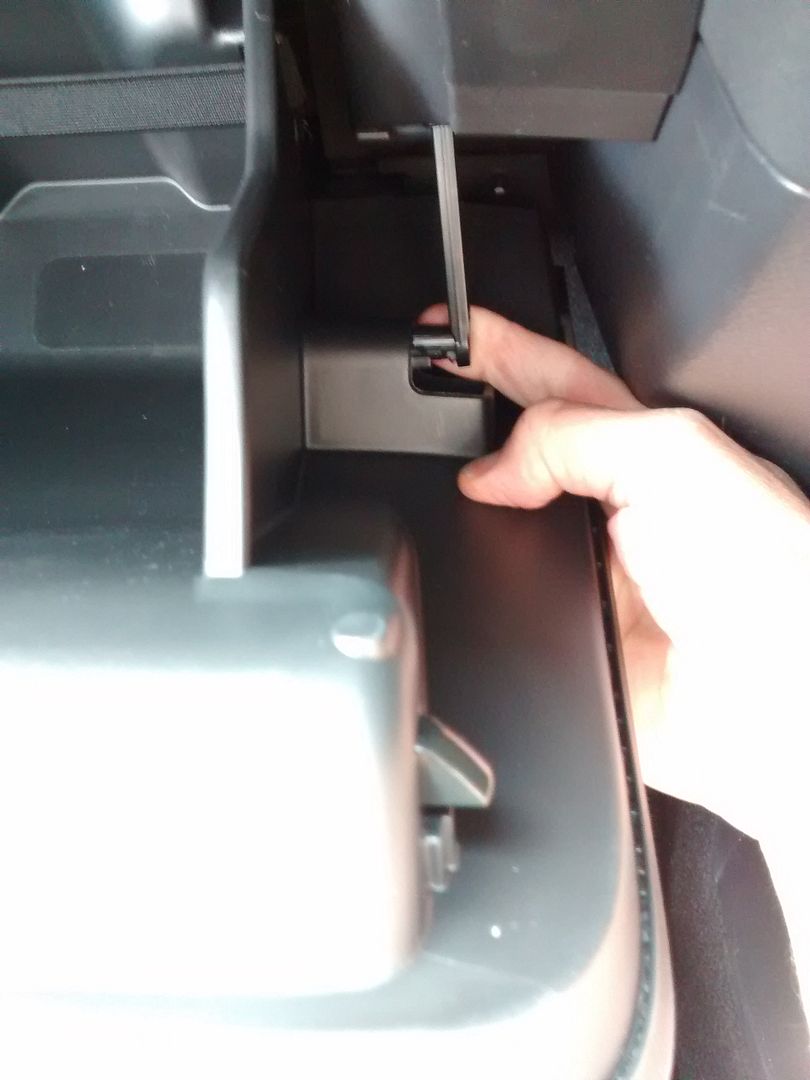 Pull the arm away from the glovebox at the bottom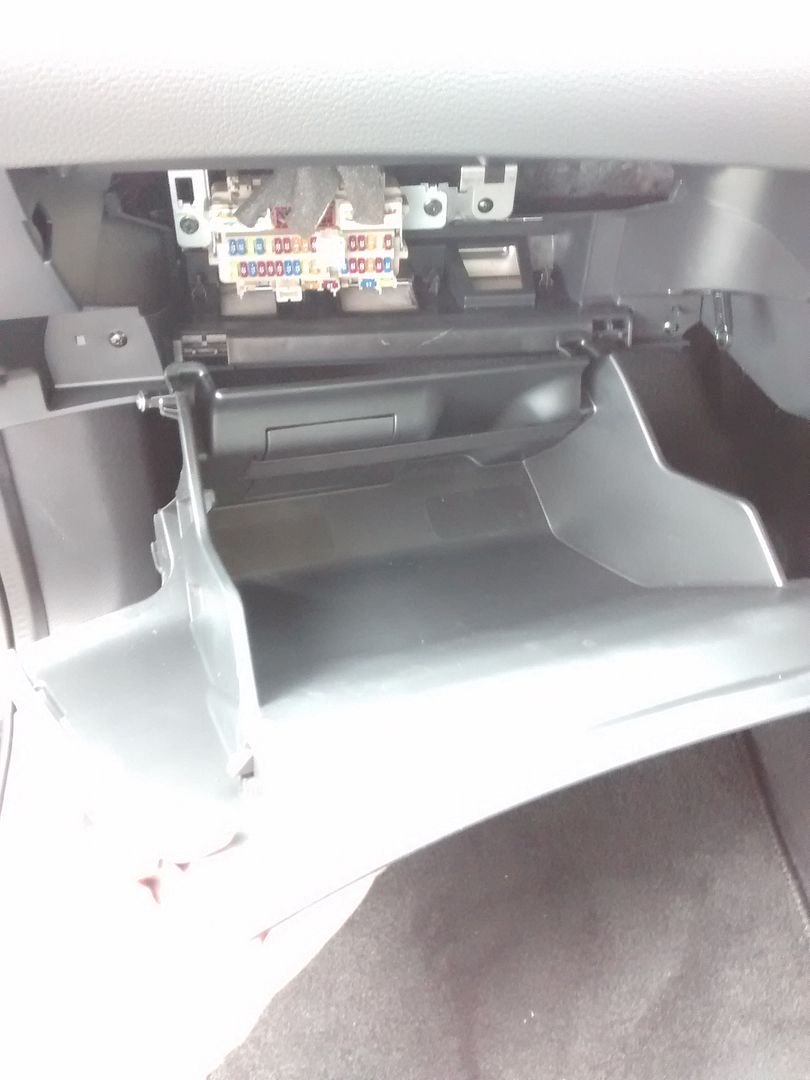 - Image

Once the arm is disconnected, pull the glovebox down and a few wiggles will release it from the two plastic hinges at the back, carfeully as you do so. This will now expose the fusebox which we are going to connect the GPS wiring to.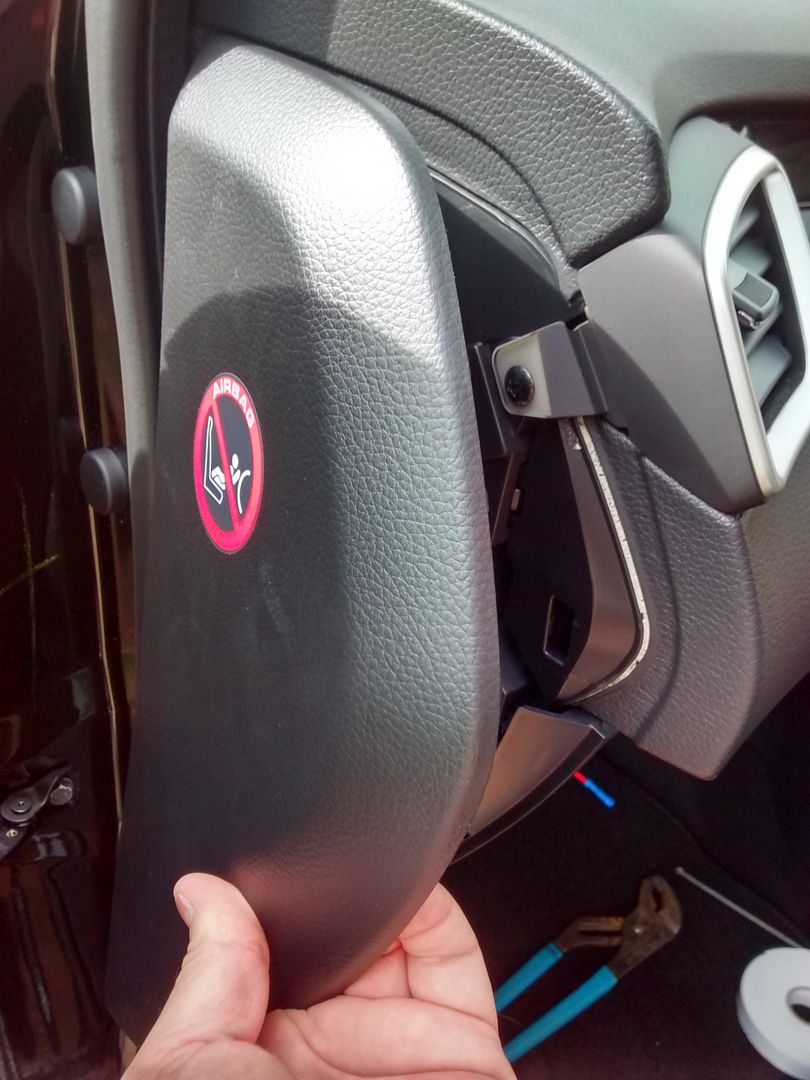 - Image

You should now also remove the end of the dashboard. All you need to do is grip it and pull it off. Comes off relatively easy. This will expose a small compartment above where the glovebox was looking in at the side.


- Image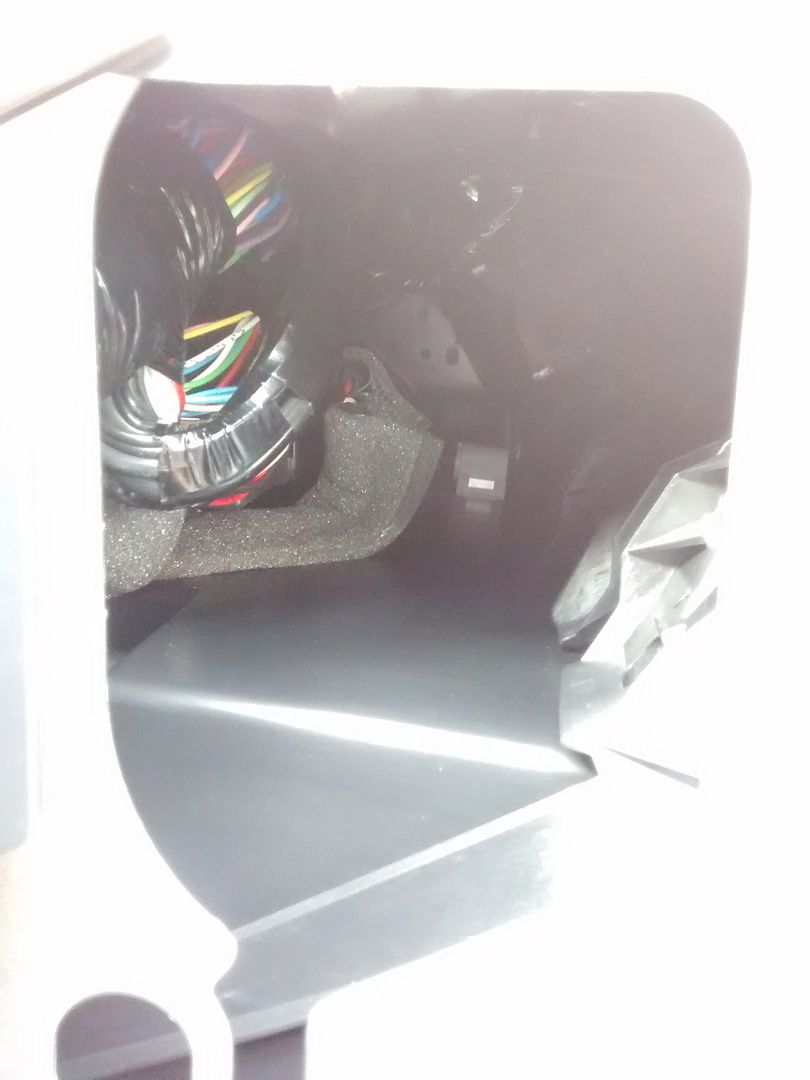 - Image

Close up shot of where the small black GPS Tracker will be housed.


- Image

Next you need to remove this red 10A fuse. It is a spare circuit and is a permanent 12v supply which is what we need should the car get stolen and/or you want to use the Tracker.

- Image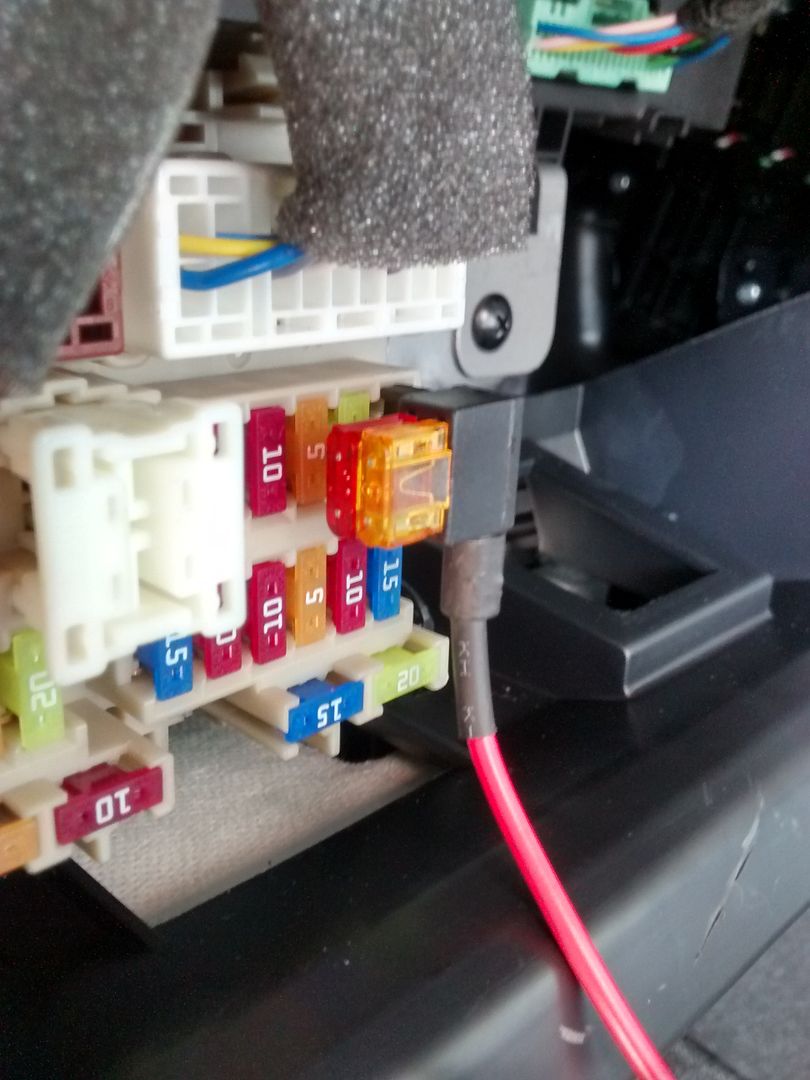 - Image

Fit the red 10A fuse you have just removed along with your 5A fuse into the Piggyback connector, ensuring the correct fuse in the correct part of the holder. At the other end of the Piggyback connector is a protected bullet connector as per the first photo. Do not connect this end just yet.


- Image

- Image

- Image

Next, find this screw, attach your ring connector to the black cable on the wiring loom that came with the Tracker and tighten the screw onto it ensuring a nice snug fit. This is your Earth.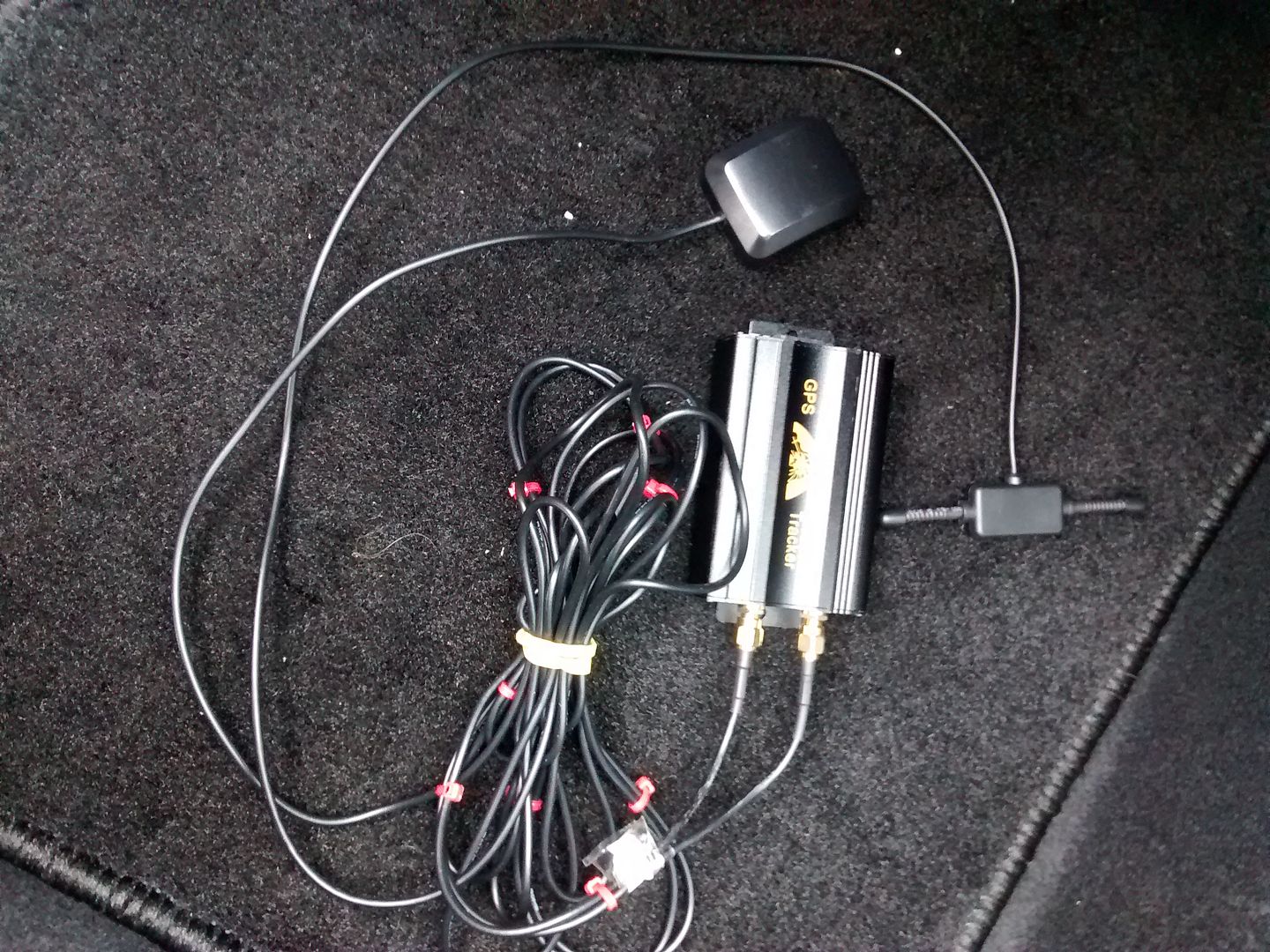 - Image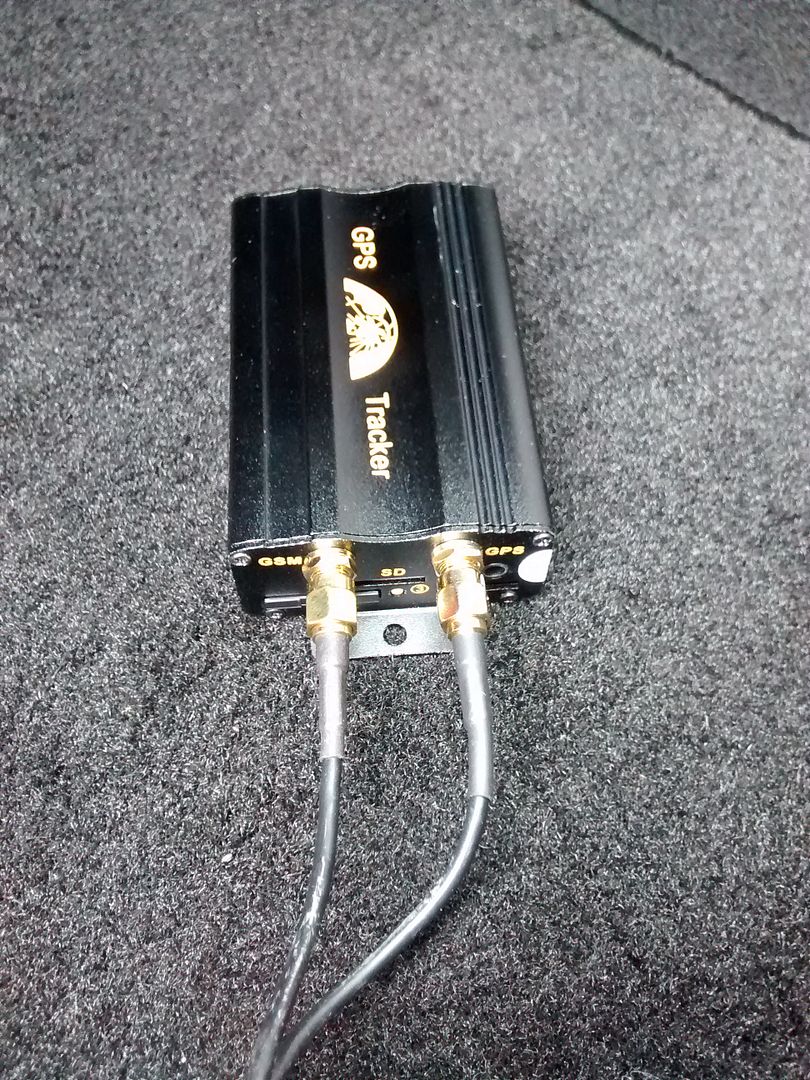 - Image

- Image

Next, attach the two cables that have the GPS and GSM aerials attached to the Tracker. At this point, put some double sided sticky tape on the back of the Tracker unit and also both aerials. Also put your working SIM card into the slot of the Tracker.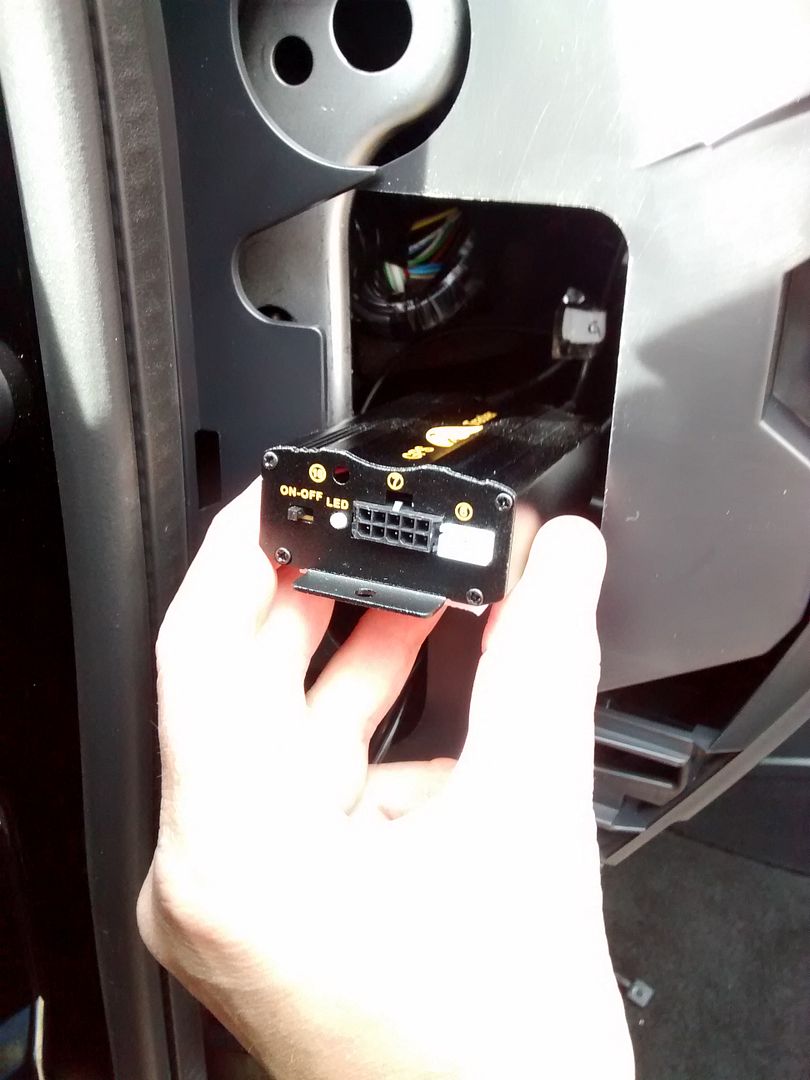 - Image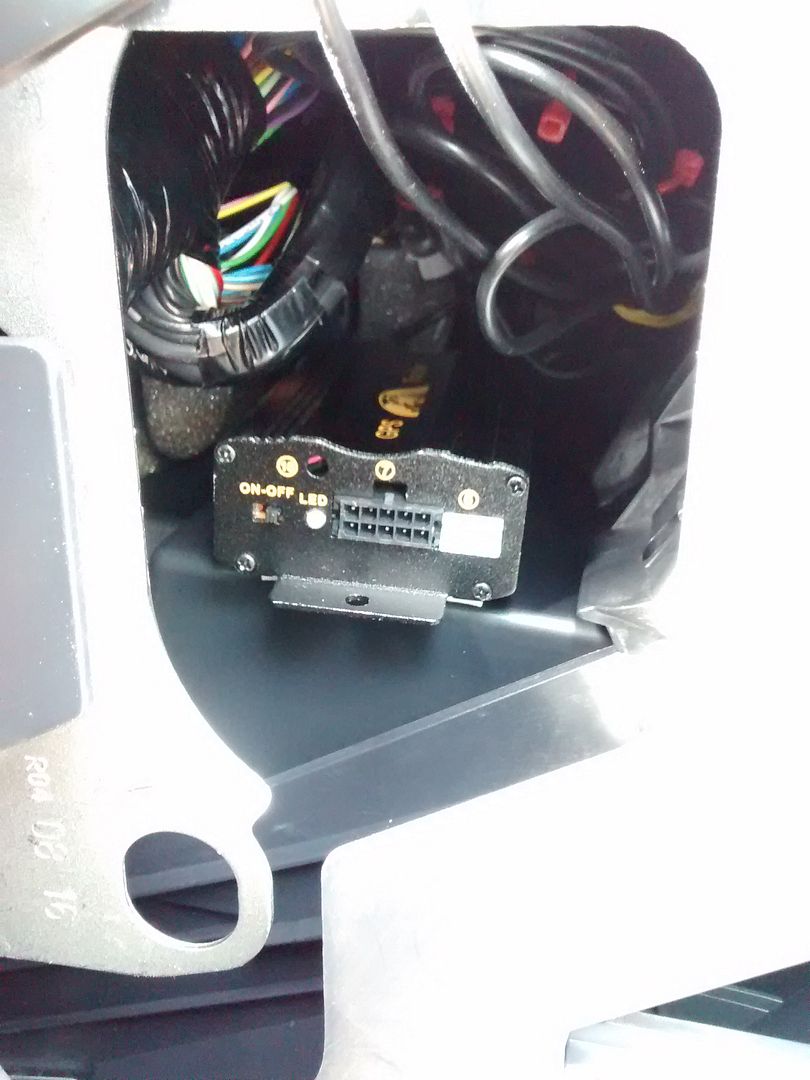 - Image

Remove the backing off the double sided sticky tape on your Tracker and carefully slot it into the recess above where the glovebox lives. Press it down firmly on the plastic shelf.



- Image
Now with the two aerials, remove the tape backing and stick them as per this photo on the edge of the recess. They could have been stuffed inside further but we need optimum reception for these so personally without removing the door pillar trim, this is the best place for them plus after several tests they work fine.

- Image

Next step is to connect the wiring loom to the Tracker and carefully feed the loom down to a place where it won't get in the way. Mine is located towards the back of the fusebox.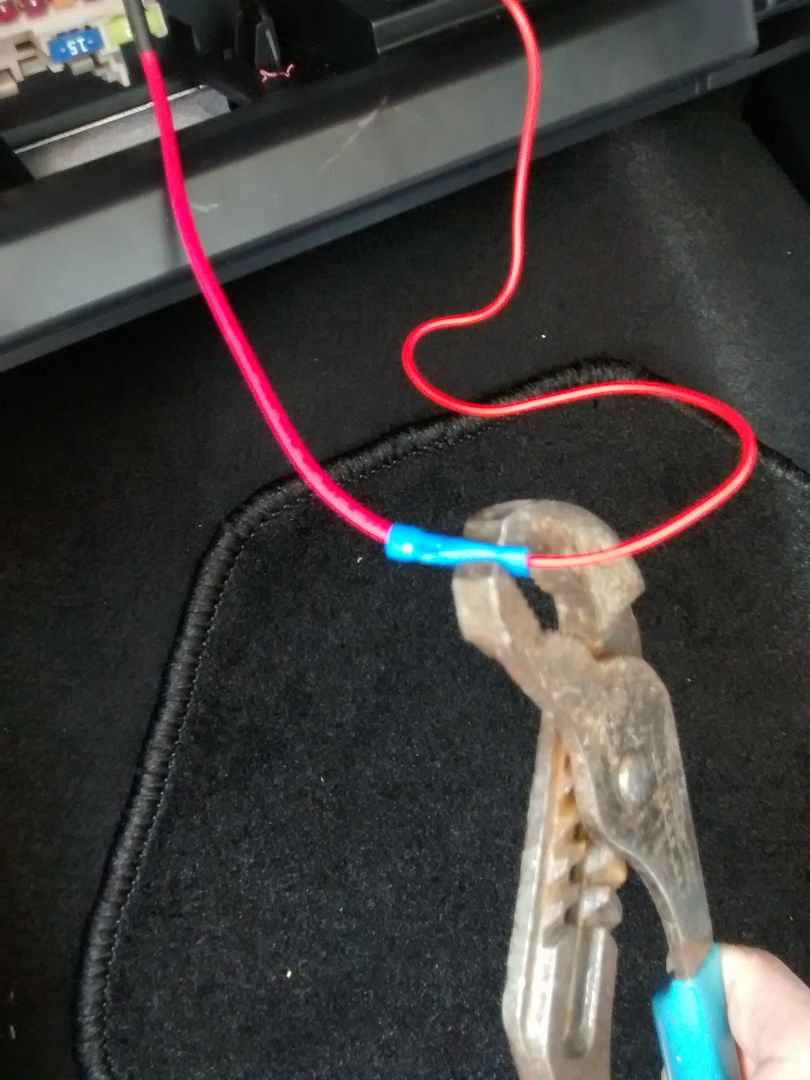 - Image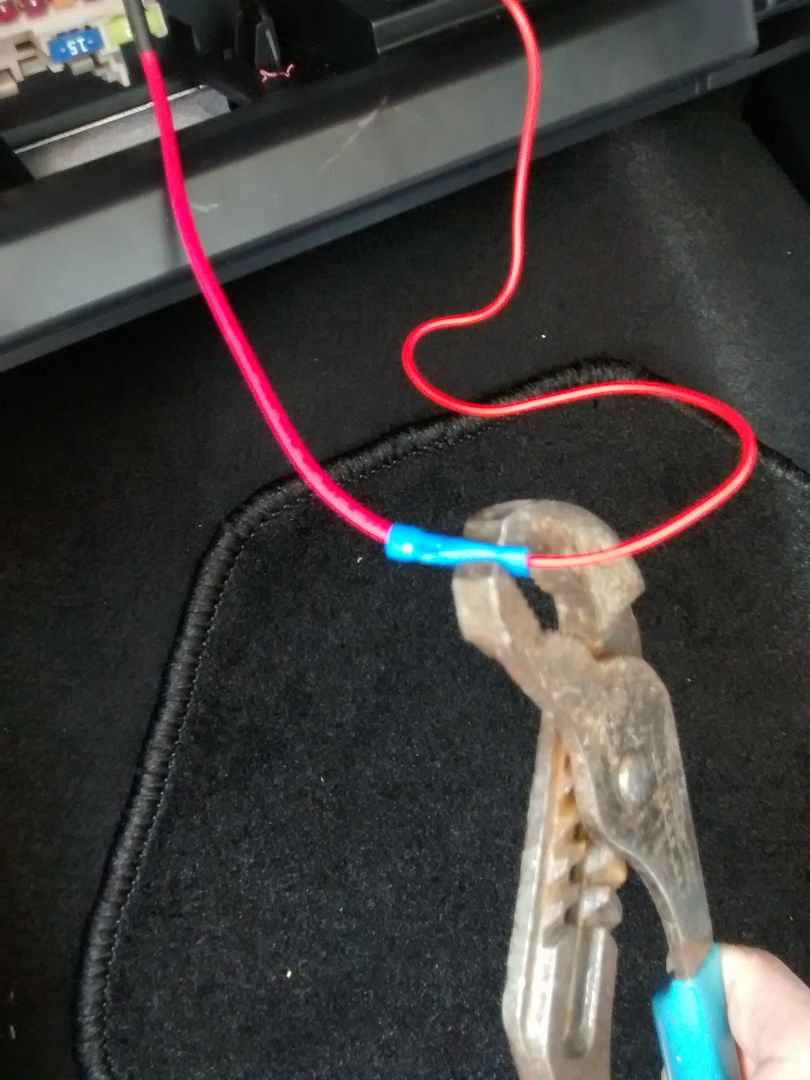 - Image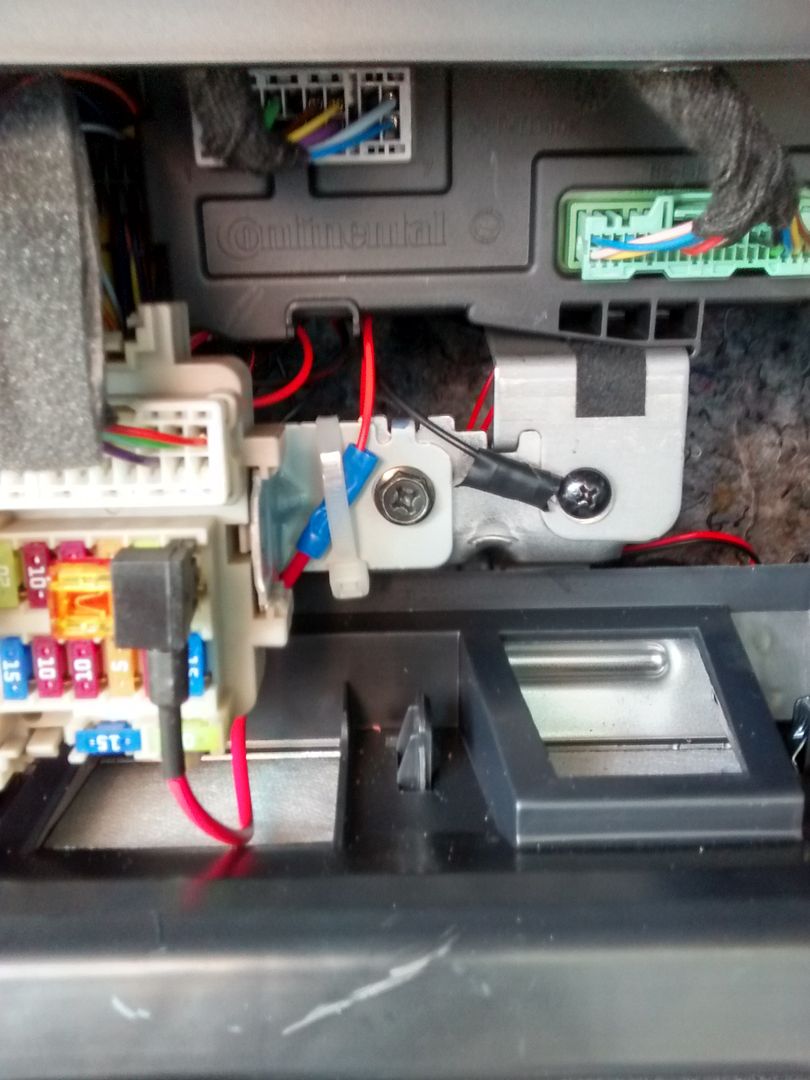 - Image
Now find the red wire on the wiring loom and attach it to the bullet connector on your Piggyback connector and crimp it nice and tight. I used a cable tie to tidy it up and to hold it in place so its nice and neat. At this point, I adjusted the ring connector on the Earth so that too looks neater.
Before you put everything back together, telephone your tracker and it should be working fine. make sure you have switched the 'ON' button on the tracker so you get a green flashing light. You may have to wait a couple of minutes for this to happen.

This is the job complete. Refitting of the dashboard side panel is simple, just press it into place and the glovebox is in reversal of the removal above. Ensure no wires become trapped and if you follow this guide, your tracker should be working. As mentioned previously, I am more than happy to fit this for you at no cost if you're prepared to travel to Winsford in Cheshire and you supply the Tracker and SIM card.



By grahamfromoldham

-------------
2017 X-Trail N Vision 1.6 DIG-T Storm White.
---
Replies:
---
Posted By: ..QQ..
Date Posted: 11†Jan†2018 at 4:20pm
---
Wow great installation guide and cheap.. amazon prime have them for £29.99. I am very tempted.


-------------
2012 QQ+2 flame red N-tec+ 2.0 petrol, CVT, 4wd mudflaps,auto mirror kit

---
Posted By: grahamfromoldham
Date Posted: 11†Jan†2018 at 6:10pm
---
Thanks, its a really easy modification to install and realistically will take an hour.
---
Posted By: Turvey
Date Posted: 12†Jan†2018 at 5:43pm
---
FYI O2 have just dropped the price of texts on their Classic PAYG to 2p
---
Posted By: grahamfromoldham
Date Posted: 12†Jan†2018 at 5:47pm
---
---
Posted By: Pete174
Date Posted: 14†Jan†2018 at 11:58am
---
Graham. Great how to guide, although I would be adding it to my J10 Tekna if I do it. However, before I decide to do it, in your experience have you ever had any problem with it draining the car battery? Leaving it for up to 3 weeks while away would this be a problem do you think? I would just be using it as a basic tracker without all the other options used. Appreciate any feedback. THanks in advance.

-------------
Black 2010 1.6 Petrol Qashqai Tekna
---
Posted By: grahamfromoldham
Date Posted: 14†Jan†2018 at 1:19pm
---
Hi Pete, I had it fitted in my last car for about 4 years with no battery drain issues even after two weeks of being away on holiday. The drain is very low so shouldn't affect your battery.
I haven't fitted it on a J10 so cannot advise you any further I'm afraid.
I too only use it for the basic tracker without utilising its full use.
---
Posted By: Hound
Date Posted: 14†Jan†2018 at 3:53pm
---
A guide to battery life vs current draw:

Battery life = battery capacity in mAh / load current in mA * 0.7 (the factor of 0.7 makes allowances for external factors, such as temperature, which can affect battery life)

I believe the TK103 actually has quite a high draw (50-60mA) as it doesn't have a "sleep mode" to run only in GSM mode at 10mA or less. GPRS always-on is great for accuracy, but poor for economy of power draw, and GSM or GPRS network attached + GPS fix = 50mA-60mA total all the time.

So with a 70Ah (70000mAh) battery, and average draw of 55mA, we get 890 hours (37 days). However, the QQ is likely to refuse to start with the battery under 11.5V, so you can probably reduce that "lifetime" somewhat - perhaps by 35 per cent. (An example: stationary, with a TK103 tracker using power constantly, a motorcycle's 12V 8.6Ah battery dropped below 11.5V in under 3 days and was below 9V in 4 days.)

The QQ will be ok with the TK103 if driven regularly. For peace of mind if the car's going to be left for a few weeks, you could look for a tracker with the current-saving sleep mode; I'm sure Graham's excellent installation guide would cover most alternative devices. Incidentally, if you want to use the other features these devices offer, there are a number of online guides, but people rarely bother as it's all rather fiddly, and they just use the basic tracker!
---
Posted By: Pete174
Date Posted: 14†Jan†2018 at 5:00pm
---
Thanks Hound for the explanation. I agree that driving every day would be ok, but it is the time when you are away that would be the problem. For me this is when you want to be able to track your car. Coming back after a holiday and it not starting is something I do not wish to experience! Although Graham has previously stated he had not had a problem, and not taking anything away from his experience, I think for me I will look for one which you can put into sleep mode. Thanks again for the information.

-------------
Black 2010 1.6 Petrol Qashqai Tekna
---
Posted By: grahamfromoldham
Date Posted: 14†Jan†2018 at 9:25pm
---
I wasn't aware they make a car GPS Tracker that has a sleep mode function. If that's the case, am I missing something here that if it is in sleep-mode it isn't going to work when you want it to do?
---
Posted By: Hound
Date Posted: 15†Jan†2018 at 5:00pm
---
Pete, I'm working on figures and theory, but Graham's talking from experience. I don't want to take anything away from Graham's advice and effort in compiling the guide, either - just giving a warning that I know that the TK103 (and many similar devices) will draw too much current for a motorcycle battery to cope with; the QQ's is of course a great deal more substantial, but it's a toss of the coin whether it will survive three weeks.

But so that you don't have to start researching other trackers, there's this option: you may consider that if you aren't going to leave the car unused for three weeks that often, you would be prepared to jump-start the car (if necessary) on those very rare occasions. That way you could still use a tried and tested device, thanks to Graham!

Graham, I think the TK102 and TK104, for example, have sleep mode, whereas the TK103 doesn't. Apparently this mode switches off the GPRS and just runs in GSM mode only, at around 80% less power draw, until it receives a signal requesting it to send information, ie your request to the SIM card. Then it presumably re-initiates GPRS and a GPS fix and relays the information. The TK103 always has these functions on and is thus always accurate and ready to transmit data, but the payoff for that is much greater power draw.

You could look at the TK102's specs, and decide whether it's up to the job: https://drive.google.com/file/d/13zi2J58yVIlpfbEH4TqCS-yGasjEXBXQ/view?usp=sharing
---
Posted By: Pete174
Date Posted: 15†Jan†2018 at 9:53pm
---
Hound. Thanks for this update. Like you I didnít want to take away anything from what Graham had previously posted, and I mentioned that in my previous post as you know. It was certainly a great guide and very informative. I know theory and practice/experience donít always agree (in all walks of life!). Thanks for the further information on other models available too. I will look into these. Many thanks to you both for your help and input. Pete

-------------
Black 2010 1.6 Petrol Qashqai Tekna
---
Posted By: grahamfromoldham
Date Posted: 15†Jan†2018 at 10:02pm
---
Hi guys, thanks for your thoughts and input. I can only speak from experience but I fitted this tracker originally on my '60' plate Astra and the battery never let me down, even when the car was parked up for two weeks while I was on holiday. As of yet I haven't had my QQ stationary for so long although we're heading to Lanzarote this Sunday so she is going to be parked up for a week or so. Here's hoping it won't let us down!
---